Pastor Brown had just returned home from his customary dawn stroll across the fields to the church when his first coffee of the day was interrupted by the boom, boom, boom of the Pastorie door's large brass knocker. He'd not seen anyone out and about that bright morning – who could it be at this hour be he wondered?
To his complete surprise, he found on the doorstep a dashing young Danish cavalry officer who politely but firmly told him to gather a few essentials and to quickly take himself off to the safety of the city walls. Over the officer's shoulder Pastor Brown could see the brilliantly coloured flags of a large body of troops marching down Pastorie Lane from the north.
Needing no further persuasion, the Pastor grabbing his purse, some cheese and a bottle of wine (or two, or three) and was off across the fields with the speed of a thousand gazelles (which is generally held to be quicker than that of a rat out of an aqueduct). He later learned that by some extraordinary combination of events and shear bad luck, the French General had decided that Pastorie Lane and the parallel Church Street would be the conduits of his annual invasion. He also learned that the Allied General had organised an ad hoc force to block the French advance long enough for him to re-position the army. That the Pastorie and church were ideal strong points which dominated the invasion route was a no brainer. "What a bummer", Pastor Brown later wrote in his memoirs.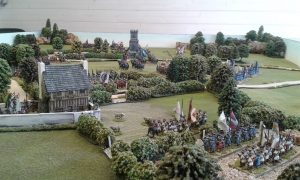 The battle flowed to and fro all day until exhaustion forced a cease fire. The Pastorie was in French hands and only a miracle would keep them from taking the church as well if only they made one last push. Whether the French had the heart to force the issue was another matter (it was pizza o'clock) so we called it a draw.
My mate Mark P visited the shed for the game on 22 June and brilliantly played the role of the French General. I was the Allied General. The rules were Rank and File with the addition of several 'Shed rules'. The toys are mine and are a combination of 20mm Les Higgins, Irregular Miniatures and Lancer Miniatures. I snuck an ECW unit in there because it had never seen action. It was composed of Kennington and Tumbling Dice figures.
Here are a few more more pictures of the game.