Following my retirement I planned to go into a painting and modelling frenzy. New troops and terrain would join my collection with the speed of a thousand gazelles. There would be a positive blur of activity and the painting challenge with Andy would provide the incentive when enthusiasm was lacking. Yeh, right.
I have finally finished the first 'post retirement' unit. Ten weeks, although to be fair I have done quite a bit of re-basing of other units in that time. The challenge deadline was missed by a whole month…….still beat Andy though. Mwahahahahahahahah.
James Long raised a regiment of foot in 1741. Originally listed as the 55th, after a number of regiments were disbanded it became the 44th and then the 44th (East Essex). It seemed only reasonable to second Long's regiment to my 1740s Essex based but fictitious Gateway Alliance.  So I did.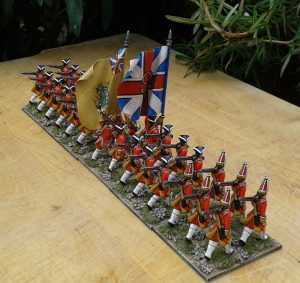 I don't intend to add any more troops to the Alliance. I may redo a few units and reorganise others but I think it's time to move on to the 'other side' – the Baltic League.
Technical stuff: the figures are from the Spencer Smith 30mm War of the Austrian Succession range. The regimental colour is speculative. The colours would have predated the abolition of personal arms so I rather cheekily used the Long family crest wot Google gave me. The bases are 45x45mm – 40x45mm with a sticky out bit for the command base. I'll count these as 30 figure units even though you'll see that there are in fact only 29 figures.