The next ASD (Another Slight Diversion) v GEP (General E Pickled) painting challenge has been agreed.
By midnight on 30 November 2016…..
Andy will have completed the re-basing of his existing 15mm ACW troops – c60 -70 bases. And, he'll paint 60 ACW foot and 16 ACW cavalry. It sounds a long shot to me but I suspect he may already have done some of the basing.
Me? I'm going to make up three new cavalry command stands for the Gateway Alliance horse (lots of drilling and grinding). And, I'll paint them and their flags and then I'll redo all the bases for all four regiments which are remaining with the Alliance. It's a bit stretching.
Good luck Andy.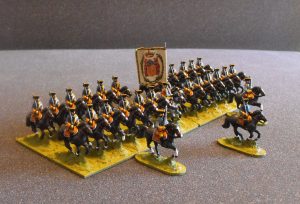 That's how a Gateway Alliance regiment of horse looks now. I hope they'll look a bit different buy the end of November.