I've gone and done it this time. Goodbyes said and bridges burnt. As of yesterday I was officially retired and very much an ex civil servant. Her Majesty's Revenue and Customs will have to get along without me and I'm sure it'll miss me as much as I'll miss it! Not a great deal then.
I confess that as a crusty old officer of HM Customs and Excise, as I was even at the time, I never really took to the consequences of the merger with the Inland Revenue. Oh well, that's ancient history. I know I'll miss the people and I wish them all the best in a future which I fear looks rather bleak.
So, onwards and upwards – what am I going to do with all this spare time?
Well there's the shed, or garden office, or retirement home as I variously call it (the gentlemen of the The Loose Association of Wargamers forum prefer to call the shed 'Spankies', I don't remember why. They're a funny bunch – and not so much in the 'funny ha ha' sense either). The shed will become the epicentre of my first hobby which is wargaming, otherwise known as playing with toy soldiers. I've spent most of my working life accruing huge quantities of unpainted lead soldiers, the vast majority of them lie untouched in countless boxes stacked high on creaking shelves. I intend to get much of this lead mountain 'under the paintbrush' and turn it into rather more useful 'stuff'. I also need to build scenery for my games – forty five years a wargamer and I don't have so much as a model tree to call my own!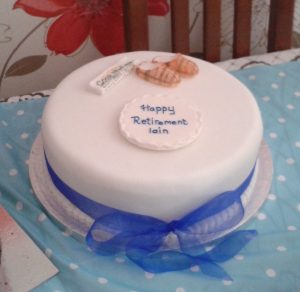 Then there's the walking. I like hill walking, or rather I did. I've become astonishingly fat in the last six years – even the modest hill on the way back from the pub is a bit of a stretch. Some issues to address there I think.
And, my wife has handed me a note listing an alarmingly number of "little jobs" to do "now that I'm at home all day". Hmmmmm.
So, this blog thing then? It's my mate Andy's fault. He set it up for me against my will and has pestered and pestered me for months to start 'blogging'. I'm a bit 'anti' but I'll give it a go if it'll shut him up. You can visit his blog here if you want to cast your eye over an excellent blog written by someone who hardly ever posts anything but doesn't let that stop him from prodding others to do so.
I think that's enough to keep Andy quiet for a while. More on wargaming, walking and me when I think of something interesting to say. And more pictures required I'm told. OK.
Iain