I popped along to the National Army Museum on Friday to see what the redevelopment had done to the place. Quite a bit as it turns out as the inside has been completely gutted. It looks really cool.

Through the entrance and past security I found myself in the spacious atrium where, apart from the shop (not a bad selection of books) and restaurant, not a lot appears to be going on. I was surprised that there was no display in the reception or outside the building to draw visitors in and whet their appetites. I suppose I expected something spectacular to say 'da, da, daaaaa, this is Army' so I was a little disappointed. No harm done but perhaps the museum needs to work on first impressions.
Armed with my free map I worked my way through the five permanent galleries: Soldier, Insight, Army, Society and Battle.
The first (first only because it was nearest) is Soldier and I think it's by far the best.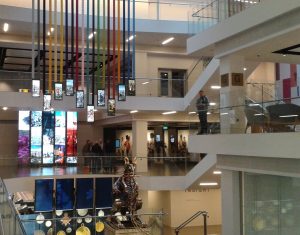 Soldier explores personal experiences of recruitment, training, army life, battle, death and injury through the ages. All the galleries have interactive displays but this one had my favourite, an excellent animation of company manoeuvres using those famous painted wooden blocks from the 18thC (or are they covered in printed paper?). I was mesmerised – I wonder if I can get a copy. There was a thought provoking narration of personal accounts of battle accompanied by jarring images and explosive soundtrack. Very good.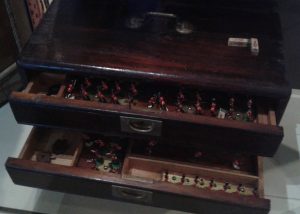 Insight, it says here, "explores the actions and the impact of the British Army throughout the world from historical and contemporary perspectives". I think perhaps this gallery wasn't up to speed because I struggled to see the relevance of the displays. There is, though, an outstanding graphic showing where and when the Army served.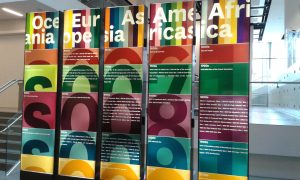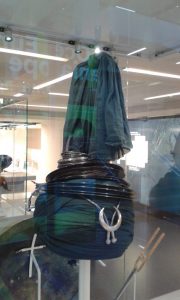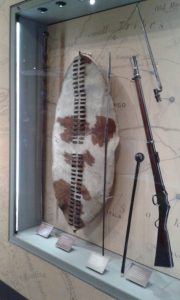 Army explores the Army's origins and impact on world history, which is quite ambitious for a relatively small area. There are perhaps a couple of dozen uniforms to be seen and various displays of weapons and equipment.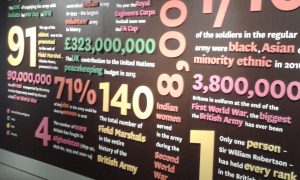 Society consisted of a great many posters and stuff from films and adverts which employ Army or military images and themes, there's even a display of civilian clothes which have mimicked military designs. It was lost on me (philistine) and I guess the gallery caters for the completely disinterested visitors who would rather be somewhere else (so cynical) – it does take up a lot of space though!
Battle has an impressive entrance with a variety of uniforms and weapons of the Waterloo period. Inside there is amongst other things a most dynamic display of weapons, but I was particularly looking forward to seeing the restored Siborne diorama. The model certainly looks greener but it's so badly lit it's difficult to see the troops. They told me that's how it's supposed to be. Hmmm.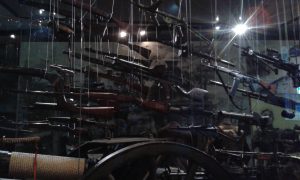 In my humble opinion Soldier is the only gallery looking at the Army on at a micro level, the others seem to be conceived at a much higher level. If you want to know about the cogs in the machine you'll possibly be disappointed. I get the impression the galleries are calculated to justify the continued presence of the Army and enhance its corporate image, and I wonder if that's why I found the displays and captions a little lacking in detail. For an army that's fought wars all over the place its own dedicated museum is a bit sanitised. You won't see anything particularly warlike here.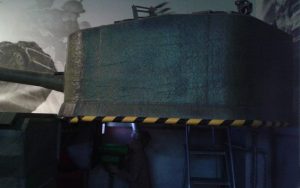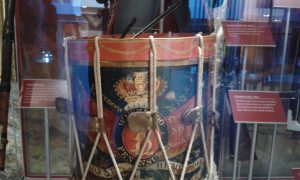 There's lots of spare space in the building for temporary displays, lectures and stuff. The Discover More area has terminals for searching the museum's collection and the start of a small free reference library. A display of military art in the Temporary Exhibition area contained some wonderful paintings but these were also badly let down by very poor lighting. Apparently that's going to be fixed.
Overall impressions?
Leaving aside the lack of initial impact the museum looks great. The facilities are excellent and it's easy to move through the building. Well-presented modern graphics are a common feature in the galleries and the artefacts are all of top quality – nothing moth eaten here (although will someone please give Marengo a decent and long overdue burial). I believe the museum is targeted at family groups and I would recommend the place for a family outing, provided none of their number had a greater military knowledge than the man on the Clapham Omnibus.
I came away disappointed. The captions accompanying the exhibits were vague and I'm not entirely sure they weren't sometimes misleading. Don't go to the museum expecting to be inspired by a particular campaign or period, it isn't laid out like that. Nor should you expect to learn how the Army fought, or how weapons were used or tactics or organisation. The museum is mostly presented at the macro, army, level and in my opinion it's rather less of a museum than an outlet for promoting a positive corporate image of today's Army. I miss the posed manikins in a historical context and the chronological layout. OK, that may be old hat but if you're going to replace such things for goodness sake replace them with something better.
I shall go back in a few months and then, hopefully, post again with a more positive opinion. Sitting here writing this I'm wondering whether I've given the new place a chance to settle in.