In September I set myself the stretching target of completing one wargame 'unit' per week over the coming year. It's been twelve weeks since the start date (1 September 2020), so what have I done?

First, I should explain the absence of an earlier update. I haven't been idle and in fact I've been building up lots of partially complete units since early October. Having undertaken to paint from scratch a 15mm late WWII German force, I decided to make and paint all the vehicles first before tackling the crew and infantry. As nearly all the units needed both, little was finished until the last base was dry-brushed, which I did this week. My deadline for the WWII stuff is 3 December, so I've beaten that, although the game with my mate Mark (AKA Pemps) is looking rather iffy under the current restrictions on socialising.
Anyway, onwards to the list of completed units………
Early September saw the completion of my first Spencer Smith 30mm Confederate unit. These are for a modest 'side' project which my very good friend Tim Hall (AKA Hotel) and I have been working on this year. Rediscovering our yoof, I suspect.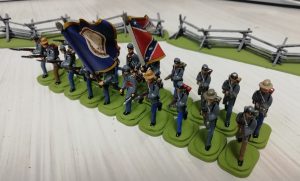 And in the first few days of October my Gateway Alliance 18thC Imaginations army was bolstered by the addition of an English regiment, the Royal Fusiliers (30mm Spencer Smiths from the War of the Austrian Succession range).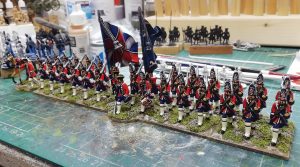 That's just two units in over a month! But things pick up from here. I'll lump them together, but the following were painted between October and now.
Marders, Stugs, PzIVs and PzVs (all Plastic Soldier Company – the crews are mostly Peter Pig). One unit of each:
A Panzer Grenadier company/battalion, consisting of, depending on your rules, HQ and three sections/companies,  (PSC and PP). I'm claiming four units.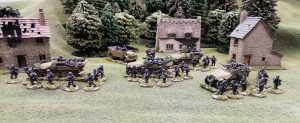 Recce unit, heavy weapons unit and support unit. That's three more units (I may have mixed the units up a bit).
So, I make that thirteen units. Woohoo!
I'm doing Ok but Christmas is coming and, with all those blooming festive distractions, who knows what will happen. What I need is a lockdown.
Next update when I have a batch worth reporting.
Iain