I think it's safe to say that my 'blogging' has got off to a slow start. The last eight weeks haven't exactly gone to plan but that's not entirely my fault. There's some sad news and some good news and a little progress to mention.
My mate Laurie died on 24 July. Laurie's health, which was never great, had been in gradual decline for some time but it still came as a shock to learn that he'd passed away. We've been friends since 1973 so we've gone from young to old and grumpy together. More recently our conversations have dwelt on 'the good old days' and how strange is the process of getting old – probably the only two subjects on which we've agreed in over forty years. Rest in peace, mate.
I found that Laurie had left all his wargaming stuff to me. I'm honoured, touched and very grateful. Gathering everything together has brought back wonderful memories of classic units, great games and campaigns – but it hasn't been easy and I wouldn't wish such a task on my worst enemy. I'm going to try not to subject anyone to that after I'm gone.
On a lighter note, I've had a bash at sculpting a generic musketeer figure and it's been sent off to see if it can be cast. The idea is for the musketeer to compliment my existing Spencer Smith units but I'll say more about that later. I'm trying not to get too excited because nothing may come of it. Here are a couple of piccies of the sculpt which is a 'draft' or work in progress.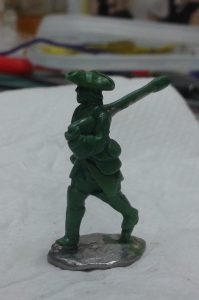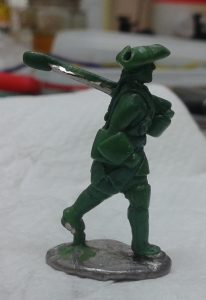 Young Andy of 'Another Slight Diversion' blog and I have an ongoing painting challenge. I churned these out for the June Challenge……..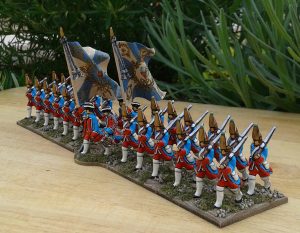 but I failed miserably when it came to producing a similar 18thC English battalion by the end of August. My only consolation is that Andy also failed. We've yet to agree on what we'll do, or try to do, by the end of October.
Last year I had a wargames shed and workshop built in the garden but only in the last week have I been able to start preparing it for use. Hardboarding the floor is almost done so I'll soon need to source an off-cut of smart vinyl.
Also, I have managed to re-base a few more of the Gateway alliance troops. I must say more about the Gateway. Later.